INDIVIDUAL GAME TICKETS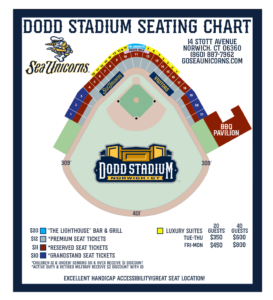 The Norwich Sea Unicorns offer several seating options at beautiful Dodd Stadium. Premium seating close to the field, reserved & grandstand seats that still have you close to the action, the lighthouse bar & grill if you want to sit high above the field without reserving a luxury suite and more!
Tickets start at just $10 and are an affordable night of fun, family entertainment!
A great option is The Lighthouse Bar & Grill, which has a 60 person maximum capacity, meaning there are a limited number of tickets available for each game. These tickets give you the feel of being in a Luxury Suite and are just $20!
The seating bowl at Dodd Stadium does not have a bad seat. The Premium seats bring you closest to the action with fold-up seats and cup holders available for the vast majority of these seats. Stretching from the right field bullpen to the left field bullpen, you can't get any closer to the action. These seats are just $12!
The Reserved seats also stretch from the right field bullpen to the left field bullpen and come with armrests as well. These seats are just $11 each and provide a great view of the Dodd Stadium playing field!
The Grandstand seating down the right field and left field lines are bleacher seating and still provide a great view of the Dodd Stadium playing surface. These tickets are just $10 each!
SEASON TICKETS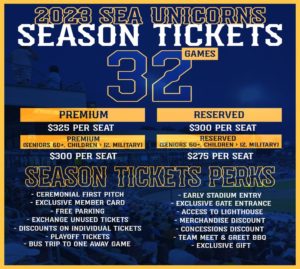 Season tickets for the Norwich Sea Unicorns 2023 season are a great way to show your support for the athletes that come to Norwich and spend their summer working hard to better themselves before their next collegiate season.
An affordable and fun outing, you will receive the same seat for all 32 Sea Unicorns home games as well as many other perks for being a member of the Captain's Club. Perks include:
Free parking, team meet & greet BBQ, Ceremonial first pitch, Discounts on concessions & merchandise, A bus trip to an away game and more.
Available in premium and reserved seating, call to purchase your plan today!
MINI PLANS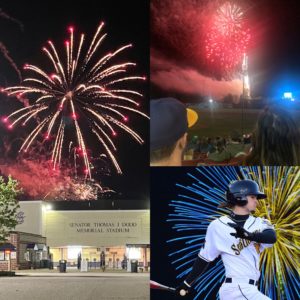 The Norwich Sea Unicorns offer a variety of ticket options if you cannot commit to a full season. One of those great options are our mini plans, with four great offers to choose from.
Not sure which games you can attend before the season, our voucher packs are the right fit for you. Each voucher pack contains 10 vouchers that can be redeemed for any game throughout the season. Bring 9 of your friends to a single game or use them for 10 individual games, however you decide. Available in premium or reserved seating, these packs also come with free parking and a Sea Unicorns hat. Please call the Dodd Stadium Front Office to order your plan today!
Our fireworks package allows you to pick the same seat for all 8 of our fireworks games this season. Enjoy post-game Fireworks shows courtesy of Liberty Bank on Monday, May 29 (Opening Night); Friday, June 2; Friday, June 9; Friday, June 16 (First Responders Night sponsored by Hartford Healthcare); Monday, July 3 (4th of July Celebration); Friday, July 7; Friday, July 14 (Military Appreciation Night sponsored by the Better Business Bureau Military Line); and Saturday, August 5 (Fan Appreciation Night). This package also comes with free parking and a Sea Unicorns hat.
New this season is our Thirsty Thursday package! This package allows you to purchase the same seat for all 6 of our Thirsty Thursday home games. During our first home Thursday game on June 1, all Thirsty Thursday mini plan holders will be invited to a Luxury Suite for a private beer and food pairing. On our final Thursday home game on August 3, all Thirsty Thursday mini plan holders will be invited to a private Happy Hour at the stadium. Finally, every Thirsty Thursday mini plan holder will receive free parking and a free Sea Unicorns beer vessel that you can bring back on Thursday's to enjoy Thirsty Thursday beer specials.
Also new this season is our Saturday package! For each of the 6 Sea Unicorns Saturday night home games, Saturday Pack mini plan holders will receive free parking, be able to choose the same seat for each game, and receive a t-shirt listing all 6 bands and the dates they will be playing pre-game at Dodd Stadium. Stadium gates will open at 4:30 every Saturday for a 90-minute pre-game music show at The Hole In the Wall Bar. Saturday Mini Plan holders will be invited to join us for Happy Hour specials on food and drink during the show. On the final Saturday home game (August 5), Happy Hour will include complimentary food during the show for all Saturday mini plan holders.