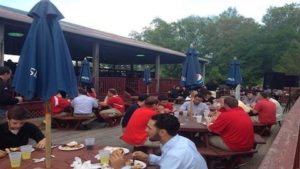 BBQ PICNICS
Hosting a BBQ picnic at Dodd Stadium is a fun way to gather Family, Friends or co-workers. Enjoy a 90-minute all you can eat picnic in the BBQ Pavilion! Everyone will also sit together during the game in block seating.
$30 PER ADULT/$20 PER CHILD UNDER 12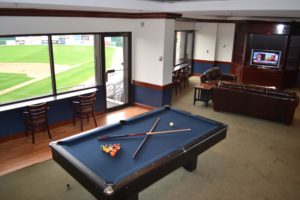 LUXURY SUITE RENTALS
A Dodd Stadium Luxury Suite holds up to 20 guests (40 guest suites also available) and is the ULTIMATE way to entertain guests (employees, customers, partners and more!) Available for a single game, quarter, half or full season! As part of the annual rental, your suite can be customized to reflect your brand! Hot Dogs, French Fries, Chips and Soft Drinks will be available in the suite as part of your package. You can also order from our catering menu (7 days in advance requested) or from the suites menu through your server!
Single Suite (up to 20 guests)                             $500
Double Suite (up to 40 guests)                           $900
Quarter Season Single Suite (8 games)            $2,500 (save $1,500)
Half Season Single Suite (16 games)                 $5,000 (save $3,000)
Full Season Single Suite (32 games)                  $10,000 (save $6,000)
LITTLE LEAGUE AND SCOUT TROOP NIGHTS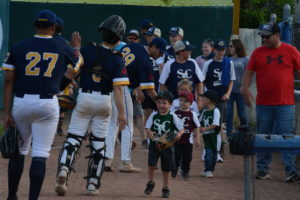 Bring your Little League team or entire league or your Scout Troop out to a Sea Unicorns game and enjoy an action packed night at Dodd Stadium!
The players/coaches or troops/leaders will have the opportunity to have a pregame parade around the warning track and remain on the field during the national anthem. Special pricing is available for players, coaches or troops/leaders and their families.
Players or Troops- $7 each includes a hot dog voucher.
Coaches or Leaders- up to 3 per team/troop are free
Adult family members- $8 each
Children family members under 12- $7 each
BIRTHDAY PARTIES
Want a fun way to celebrate a birthday? How about a sea unicorns game at Dodd Stadium? Birthday parties can be held in a luxury suite for up to 20 people. Packages include:
-Choice of hot dogs or chicken tenders/fries
-Soft drinks
-Gift for the guest of honor
-Guest of Honor can throw out a ceremonial first pitch and all kids at the birthday party can be on the field with the Sea Unicorns during the National Anthem
$599
Please call the Dodd Stadium Front Office at 860-887-7962 to book your Group Outing today!