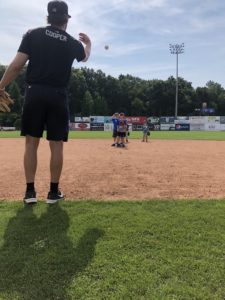 The Norwich Sea Unicorns staff is committed to providing youth baseball and softball players an opportunity to learn skills to become better at hitting, pitching, defense, baserunning and overall knowledge of the sport. Coming off of a very successful first clinic in the summer of 2022, the Sea Unicorns are happy to announce the 2023 clinic schedule.
WINTER HITTING SCHOOL
The Sea Unicorns Coaching Staff will be opening the Dodd Stadium indoor batting cage for a Winter Hitting School on Saturday, January 14th and Sunday, January 15th from 9am-11am. These sessions will be limited to the first 12 people to register for each day. With 2 hours of hitting instruction, your son or daughter will receive plenty of reps to help hone their hitting skills to get ready for the spring season. Registration is $100 per session and can be made by calling the Sea Unicorns Front Office Staff Monday-Friday from 9am-5pm.
SUMMER CLINICS
The Sea Unicorns will be making adjustments to our Summer Clinics based off of the success of last summer's first clinic since joining the Futures League. This summer we will be offering 2 clinics that will be 3 days of instruction each. Information for the clinics is as follows:
Clinic #1     Monday, June 26th-Wednesday, June 28th
Clinic #2     Monday, July 17th-Thursday, July 20th*
*Please note that there will not be on field clinic instruction on Wednesday, July 19th. All clinic attendees will receive a ticket to the Sea Unicorns Wednesday, July 19th game at 11am against the Pittsfield Suns.
Clinic daily schedule is as follows (subject to change based on weather):
8:45am   Check In
9:00am   Stretch and Throw with the Coaches/Instructors
9:30am    Instruction and Drills in Stations
11:30am   Break for lunch
12:00pm   Return to field for game play
1:00pm     Check out
All clinic attendees will receive:
-Instruction from Sea Unicorns coaches and players
-Clinic T-Shirt
-Game ticket with hot dog, bag of chips and bottle of water for Sea Unicorns vs. Suns game on July 19th at 11am (Camp Day)
-lunch will be provided each clinic day for those that do not bring their own
Pricing:
Single session (choose from Clinic #1 or Clinic #2)    $200
Both sessions (attend both Clinic #1 and Clinic #2)    $350
Multi-child from same household will also receive a discount of $25 per child
Registration for the Summer Clinics will begin in February. Please download the Clinic Registration Form to fill it out and send to the Sea Unicorns Front Office or call the Sea Unicorns Front Office staff at 860-887-7962.